That Vegetarian "Pulled Pork" Recipe
People were requesting it on Twitter, so I'm going to stick this here.
Backstory: I made pulled pork for sandwiches yesterday and wanted to make a vegetarian equivalent for Ananth.  So I did some experimentation. (I made a small amount and wrote the recipe accordingly— I'd suggest doubling the recipe for three people or more.)
**note: if you replace the butter with olive oil or something, this is a vegan recipe. Crazy!**
Ingredients:
• x1 large black eggplant, peeled and cut into chunky long strips (you want the fiber left long so it emulates pork)
• x1 can of jackfruit in brine, drained
• x2 cloves garlic, diced (or however much you feel like)
• x1 small onion in strips or diced or whatever
• x1 tbsp butter (or some sort of oil - to compensate for the richness in pork fat)
• ~x0.5 can rootbeer (my "secret ingredient" for pulled pork)
• ~x0.5 bottle barbecue sauce (I use Sweet Baby Ray's, but whatever you want really.  Keep the rest of the bottle for the sandwiches!)
Instructions:
• Put everything into a slow cooker except for about half of the barbecue sauce.
• Cook on high for about 4 hours or low for about 6-8 hours.
• Stir every few hours, making sure that the eggplant and jackfruit get broken up in a pulled pork-ish fashion.
• When everything's cooked, stir in the rest of the barbecue sauce.
• Eat on sandwiches, possibly covered in more barbecue sauce and cheese, possibly accompanied by rootbeer. (all optional.)
The general consensus seemed to be "tastes okay, the texture is very good."  I personally preferred the pork.
TO BE NOTED: Everything here is in imprecise terms and should be fiddled with as according to taste.  (Looking back, maybe I should've added a can of stewed tomatoes…)  I don't pretend to be a great cook and I'm sure you guys could make this much better than I did.
Good luck!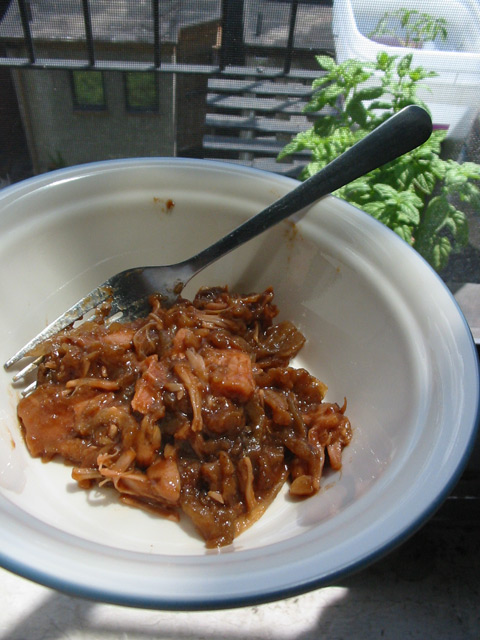 EDIT: It has brought to my attention that many barbecue sauces are NOT vegetarian or vegan.  I'm sure that if you do have dietary restrictions you're already paying attention to the ingredients of your groceries, but I just wanted to make a note of it.